Reviews for Spine by Design Chiropractic Center
Hear What Our Patients Say!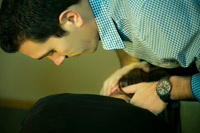 Our mission at Spine by Design Chiropractic Center is to find the underlying cause of issues you and your family may be experiencing. Our patients have had some amazing results! I invite you to read about what some of our patients say. Then give us a call! I'd be happy to talk with you about how chiropractic can be a party of your health story.
– Dr. Nick
---

Additional Reviews
I started with chiropractic in hopes to get some relief from my migraines. Since high school, I average about 1-2 migraines a week. After starting chiropractic care, I started noticing I would go weeks without having a migraine, and then it turned into months! My life has completely changed, I can actually enjoy life now!
~ Jenny R.
"I have been in several times for check ups and a full examination. The service is always friendly and I actually look forward to my appointments. Dr. Albert is 1st class and true professional."
~ Chase M.
"After just one adjustment I've noticed a lot of changes, Dr. Nick is great!"
~ Lauren A.
---
Spine by Design Chiropractic Center Reviews | (414) 982-1854